Archbishop John Hepworth: 'We tend to associate Christian life with Methodism and wowserism'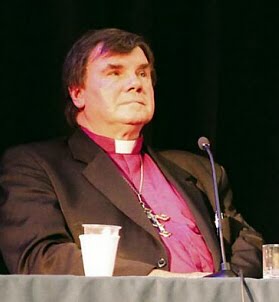 Following some good news Down Under earlier this morning, some rather not so good news:
Junior priest Peter Slipper is just a wine-loving larrikin, says Archbishop John Hepworth.
Okay? But then he gives what passes for his assessment of what constitutes the Christian life in Australia.
PETER Slipper, junior priest, political turncoat and former parliamentary Speaker, is "not naughty" but a "classic larrikin" who likes a second bottle of red, according to the archbishop who ordained him.

John Hepworth ordained Slipper as a deacon (subordinate clergyman) in the Traditional Anglican Communion in 2003, before his elevation to a priest five years later.

Hepworth, a former priest in both the standard Anglican and Catholic folds, created a storm last year when he revealed that as a seminarian and junior cleric, he was subjected to repeated rapes by Catholic clergy.

The Archbishop has suspended Slipper from his dual roles as priest and chancellor or senior legal officer of the TAC, pending the outcome of the current claims against him. (Slipper, while denying all allegations, has also stood aside as Speaker on full pay of $323,750.)

But Hepworth's instincts are to defend him.

"I've always said that Peter is not naughty, but the classic larrikin," Hepworth says. "He likes a good night out and he certainly likes a second bottle of red. It's just an interesting phenomenon in Australian life with the Christian who drinks and is happy and so on.

"We're uncomfortable with devoutness, and we tend to associate Christian life not with the exuberance of say, European Catholicism and Mozart high mass. We associate it with Methodism and wowserism.

"He had wanted to be a priest, I think, from university days. And as a bishop, I thought, 'Yes, he does have the makings of a priestly vocation'. What I saw was a depth of faith and a commitment to a devout life, beyond the average."

If Slipper is cleared of his latest trials, Hepworth believes plans will continue for a life after politics as a fully functional priest.
Can I say two things… Or make that three:
If this is what it means to an Australian Christian, then I'm… Actually, no, scratch that thought…
Thank goodness there is a coming Ordinariate (!) - to sift such erroneous teachings, the people propagating them, and to stop the wild Ordaining of unqualified men.
It is not very hard to see (and understand) why the man making the above statements will be received back into the Catholic Church only as a layman.
'Methodism'?! Good grief! What's next?