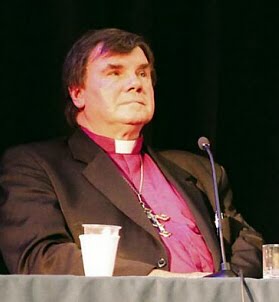 The Australian is reporting:
The Traditional Anglican Communion will conduct a special internal hearing in India next month into allegations of financial irregularities at the Australian arm of the church involving Archbishop John Hepworth, which were first raised by a priest he had tried to suspend.

Archbishop Hepworth yesterday said he had not been told what charges he was facing and would not attend the tribunal in New Delhi on October 6.

The acting primate of the breakaway church, India-based Archbishop Samuel Prakash, said the allegations against the Adelaide priest were yet to be tested.

"This matter was presented by Bishop David Robarts, a standing TAC bishop in Australia, and (is) under consideration," he said.

Bishop Robarts yesterday refused to say what allegations he had raised with the church's international leadership, but said he hoped the issues would be resolved at the tribunal.

Archbishop Hepworth, who was instrumental in seeking his church's reunion with Rome, was forced to resign as the global head of the TAC in April, seven months after he raised allegations that he had been raped by Adelaide Catholic priest Ian Dempsey and two others in the 1960s.

A meeting of the church leadership in South Africa this year found Archbishop Hepworth had tried to suspend Bishop Robarts from the church on "insufficient" grounds.

Yesterday, he denied any wrongdoing. "This is la-la land," Archbishop Hepworth said. "Of course I'm not going to India – I don't know what I'm charged with. I wasn't even a signatory on the church's accounts in the last six years."
'la-la land'?